Core Features
Meet the super co-worker: Sanbot Max is a jack of all trades robot, able to carry and tow objects, autonomously map a room, avoid objects and people, translate, answer guests' questions, deliver items, attach 3rd-party accessories, and more.
Increasing Quality of Service
Improving Business Experience


Advancing into the Future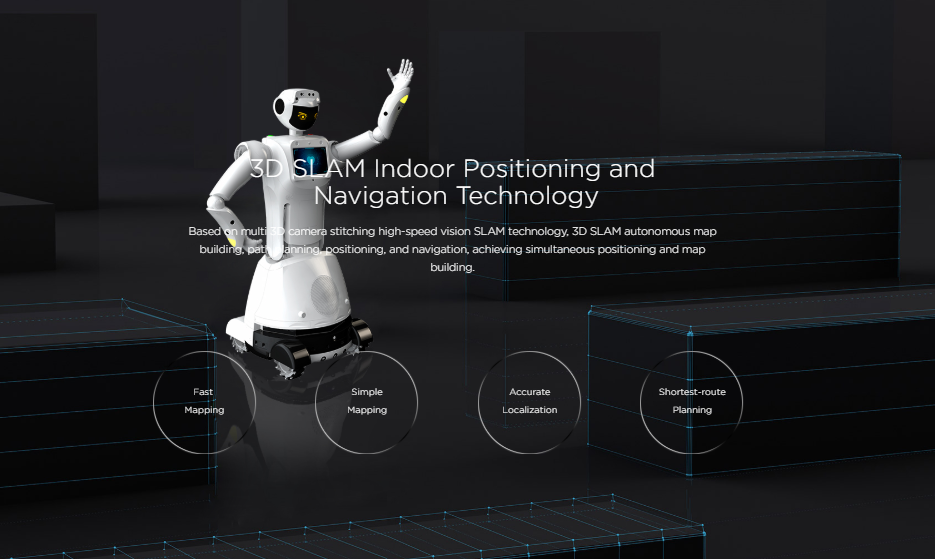 Attaching Extensions
Sanbot Max has built-in USB ports, HDMI, power outlets, switches. You can attach a printer, ATM, medical equipment, screens, 4G data card, hard drive, SIM card, 4G Internet, mobile data storage, and even more attachments.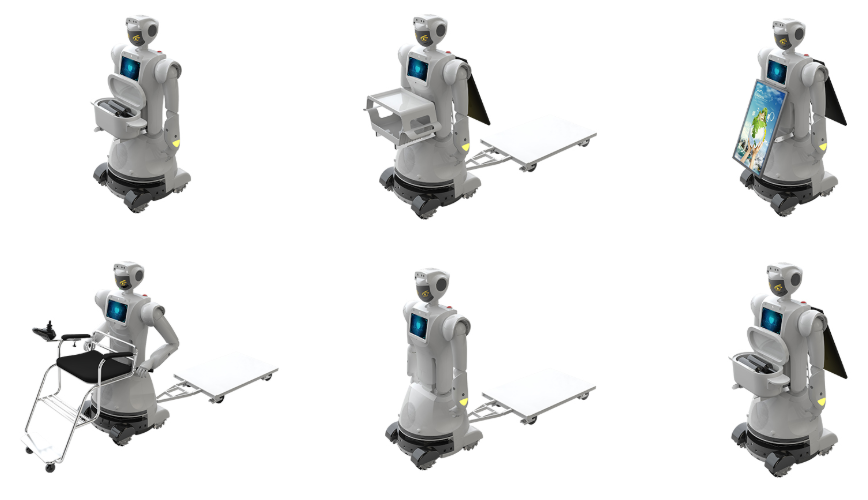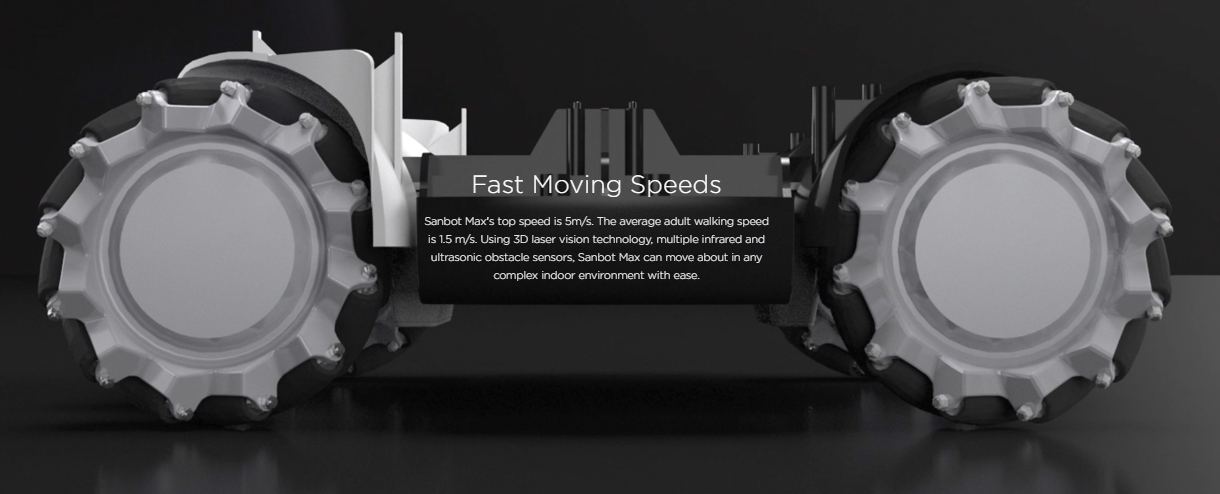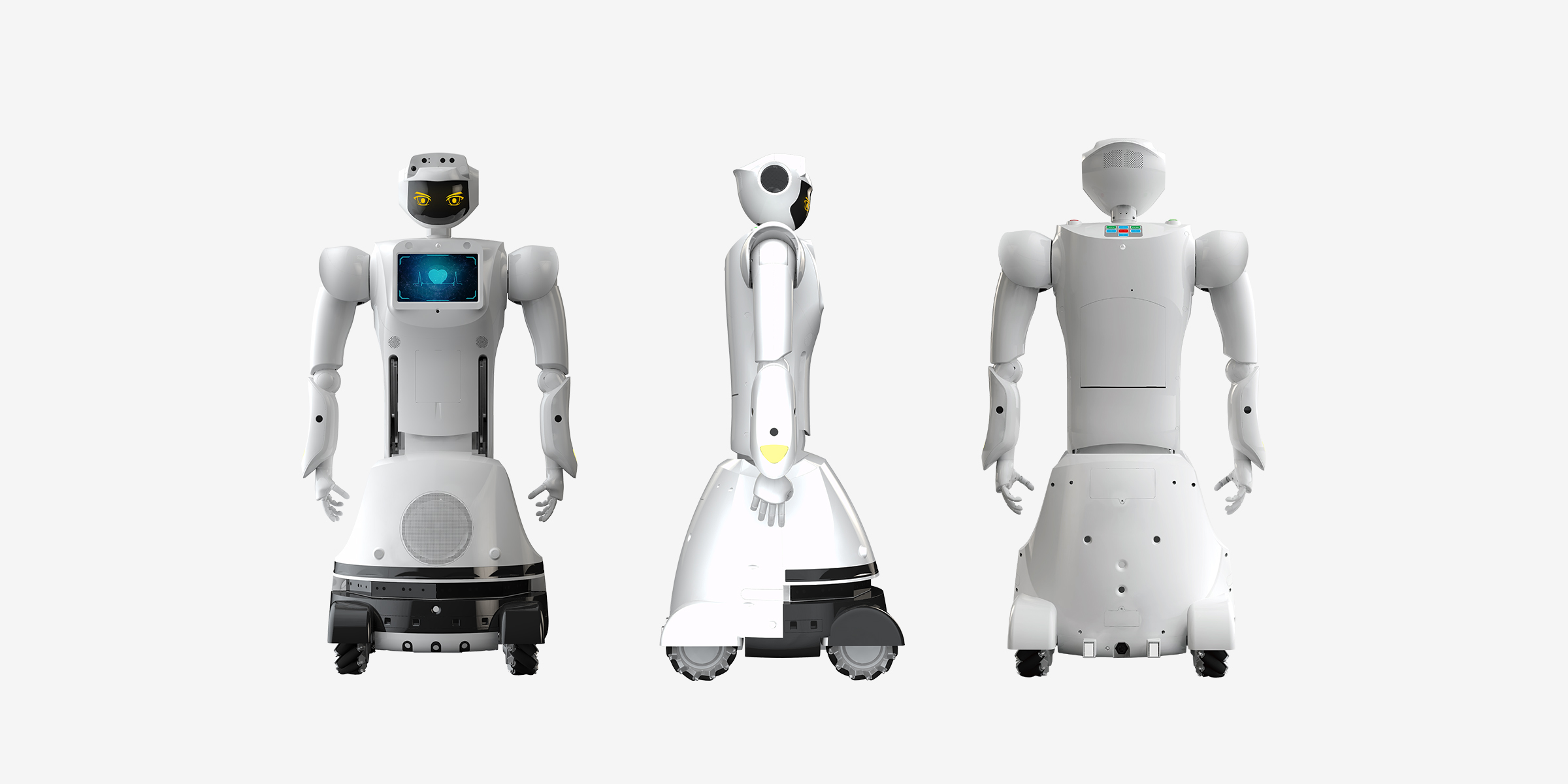 Design Size
Size and Weight
Professional Version

Standard Version

Economic Version

Battery
Lithium capacity:1.6KWh;
Voltage:36V;
Working hours: normally about 18 hours, standby about 50 hours
Lithium capacity:1.6KWh;
Voltage:36V;
Working hours: normally about 18 hours, standby about 50 hours
Lithium capacity:300Wh;
Voltage:36V;
Primary Sensors
MIC, HD color camera, 3D camera, Visual camera, Touch sensor, HD camera, PIR, Ultrasonic, Gyroscope, Infrared, Pressure sensor, Magnetic sensor, RFID card reader
MIC, HD color camera, 3D camera, Visual camera, Touch sensor, HD camera, PIR, Ultrasonic, Gyroscope, Infrared
MIC, HD color camera, Touch sensor, HD camera, PIR
OS
Android / LINUX / ROS / RTOS
Display
1080P, 10.1 inch touchscreen
Degrees of Freedom(motor)
Head: x3(Horizontal 180 degree, Vertical 90 degree)
Arm: x10
Palm: x10
Waist: x1
Chassis: x4
Head: x2(Horizontal 180 degree, Vertical 45 degree)
Arm: x10
Palm: x10
Chassis: x4
Head: x2(Horizontal 180 degree, Vertical 45 degree)
Chassis: 360 degree (no drive)
Moving
4-wheel drive (External wheel motor and Mecanum wheel)
External wheel motor and Mecanum wheelx4
Mecanum wheelx4
Max Speed

 

0~5m/s
0~5m/s
push manually
Ground Clearance
4.5cm
4.5cm
push manually
Head
Microphone: x7
Eye Display: OLED x2
Background lights: RGB x2
Speakers: Hi-Def Speakers x2
Degrees of movement: x3(Horizontal 180 degrees,Vertical 90 degrees)
HD camera: 720Px1
Visual Camera: x1
3D Camera x1
Lighting: LED Light x1
Touch Sensor: x1
Microphone: x7
Eye Display: OLED x2
Background lights: RGB x2
Speakers: Hi-Def Speakers x2
Degrees of movement: x3(Horizontal 180 degrees,Vertical 90 degrees)
HD camera: 720Px1
Visual Camera: x1
3D Camera x1
Lighting: LED Light x1
Touch Sensor: x1
Microphone: x7
Eye Display: OLED x2
Background lights: RGB x2
Speakers: Hi-Def Speakers x2
Degrees of movement: x3(Horizontal 180 degrees,Vertical 90 degrees)
HD camera: 720Px1
Lighting: LED Light x1
Touch Sensor: x1
Torso
Display: 10.1 inch 1080P touchscreen
HD Camera: x1
PIR: x2
Scanners: x2
Speakers: Treble speakersx2
subwoofer x1
Touch sensor: x2
Backside Cover: Type-A USB x2/Micro USB x1/Dial Switchx2
Front side cover: AC 220V Power Outlet x1/HDMI Port x1
Type-A USB x1/DC 12V Port x1
RJ45 Ethernet Port x1/AUDIO IN Port x1
I²C Interface x1
Bracket: Pressure Force Sensor x1
Display: 10.1 inch 1080P touchscreen
HD Camera: x1
PIR: x2
Scanners: x2
Speakers: Treble speakersx2
Touch sensor: x2
Backside Cover: Type-A USB x2/Micro USB x1/Dial Switchx2
Front side cover: HDMI Port x1
Type-A USB x1
RJ45 Ethernet Port x1/AUDIO IN Port x1
I²C Interface x1
Display: 10.1 inch 1080P touchscreen
HD Camera: x1
PIR: x2
Speakers: Treble speakersx2
Backside Cover: Type-A USB x2/Micro USB x1/Dial
Arm (x2)
Arm directions of movement: x5
Hand directions of movement: x5
Touch Sensor: x4
Infrared: Infrared Distance Sensor x3
Background Light: x1
Arm directions of movement: x5
Hand directions of movement: x5
Touch Sensor: x4
Infrared: Infrared Distance Sensor x3
Background Light: x1
 
Chassis
Wheels: External Wheel Hub Motor + Mecanum Wheel) x4
Infrared: Infrared Distance Sensor x18
Ultrasonic Scanner: x6
3D Camera: x4
Vision Camera: x1
Trailer Hitch: x1
On/Off Switch: x1
Charging Port: x1
Charging Indicator Light: x1
Turn Signal: x3
Magnetic Sensor: x2
RFID: x1
RJ45Ethernet Port: x1
DC 12V Port: x1
AUDIO IN Port: x1
Wheels: External Wheel Hub Motor + Mecanum Wheel) x4
Infrared: Infrared Distance Sensor x18
Ultrasonic Scanner: x6
3D Camera: x4
Vision Camera: x1
On/Off Switch: x1
Charging Port: x1
Charging Indicator Light: x1
Turn Signal: x3
Wheels: Mecanum Wheel x4
On/Off Switch: x1
Charging Port: x1
Charging Indicator Light: x1
Trailer Hitch: x1
HDMI Port: x1
Charging method
Charging pile、Charging by power adapter
Charging pile、Charging by power adapter
Charging by power adapter
Weight
100KG
About 90kg
About 60kg
Max Freight Weight
75KG
None
None