Yealink VC500 VC Room System

Ultimate Simplicity, Perfect for Small and Medium Rooms
Yealink VC500 is ideally designed to ensure everyone to have an immersive communication in the workspace. Equipped with the 5x optical zoom PTZ camera, it supports 1080P/60FPS video calls to make your business discussion be as life-like and interactive as possible. It possesses an all-in-one design and the first-class video and audio technology that creates an easier and more effective collaboration experience.

As the newest generation of Yealink VC series video conferencing endpoints, the VC500 adopts an intuitive user interface that makes meeting control simpler. Featuring H.265/HEVC and Opus, this new release facilitates more immersive audio-visual collaboration. By leveraging Yealink Meeting Server (YMS), the VC500 seamlessly supports Meeting Scheduling and One-touch Meeting Access. All combine to make VC500 one of the perfect solutions for the small-to-medium meeting rooms.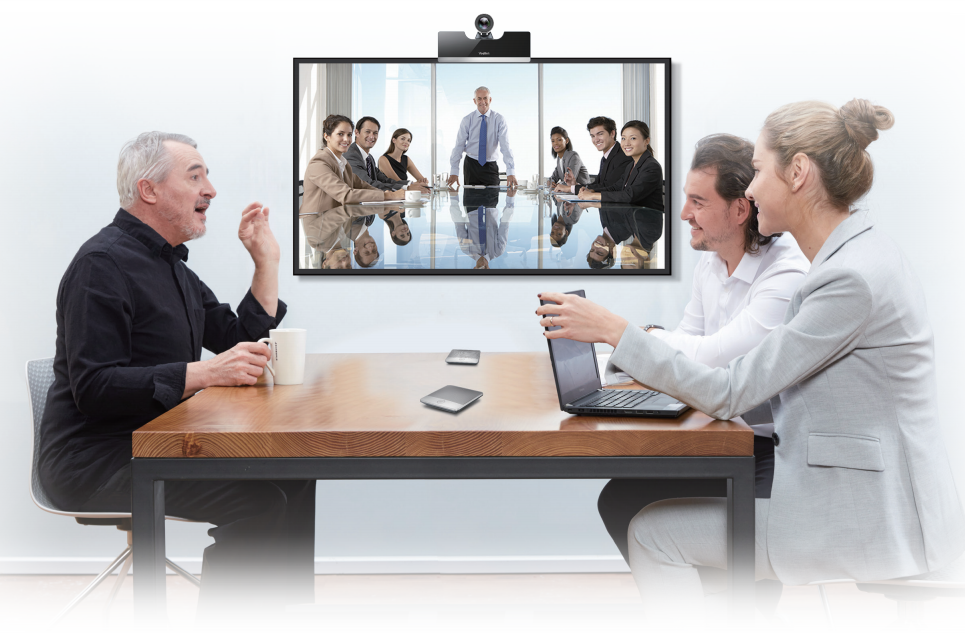 ---
Life-like Communication for Small and Medium Meeting Rooms
VC500 delivers a lifelike face-to-face conferencing experience for small and medium meeting rooms. Its wide-angle lens provides an expanded 83-degree horizontal field of view to ensure that everyone in the room is visible during the meeting. Equipped with a 1080P60 and 5X optical PTZ camera, VC500 offers a vivid image as well as a clear concentration.



---
All-in-one Design Creates Simpler Deployment
- Deployment is simpler than ever. VC500 can be installed on top of the display, fits seamlessly on TV with thickness from 1mm to 77mm, making your meeting room clutter-free.
- Yealink VC500 is a sleek, compact device including an integrated HD camera and a codec, only one standard network cable could connect TV area and conference table, saving more time and space for better communication.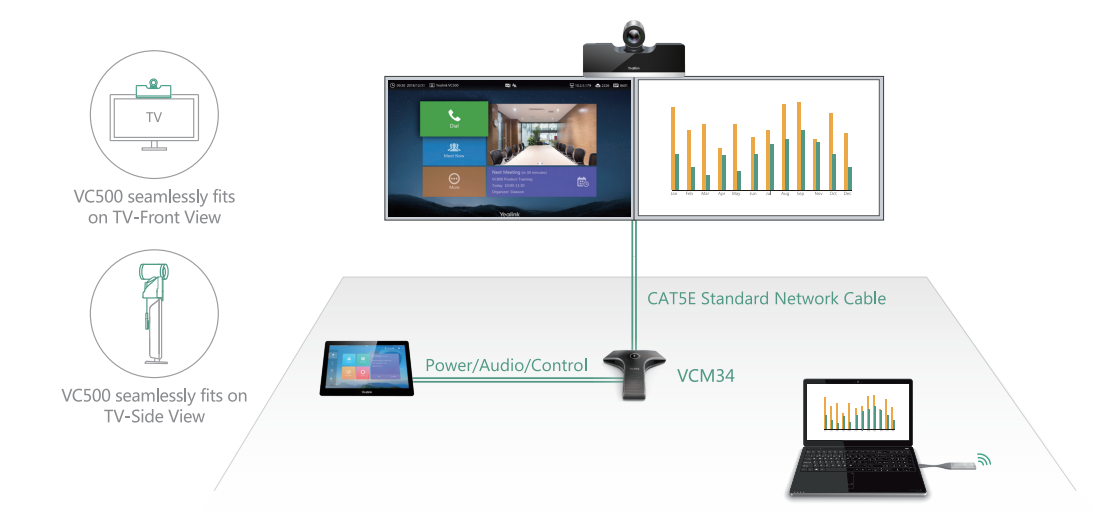 ---
Two Packages to Enhance Diversity
VC500 offers two packages to fit in diversified needs.
VC500-Wireless Micpod utilizes Yealink's DECT technology, featuring two wireless microphones to optimize mobility within the meeting room by providing a stable voice transmission. Thanks to Yealink's DECT technology, your table can be kept tidy and clutter-free.
VC500-VCM34-CTP20 includes a microphone featuring 360 ° omnidirectional high-quality voice pickup in radius of 6 meters and a touch panel which enables multi-party collaboration to upgrade users' experience significantly.

---
Interaction and Collaboration Enhance the Conference Experience Comprehensively
Multiple participants can annotate content sharing at the same time, assisting high-efficient video conference.
Multi-party interaction on electronic whiteboard, real-time synchronization of each party's writing track, and a variety of handwriting options all help to bring a better collaborative experience.
Supports local multi-screen interaction. Paring with WPPZO, users can easily realize reverse control of computer via touchable TV or CTP20.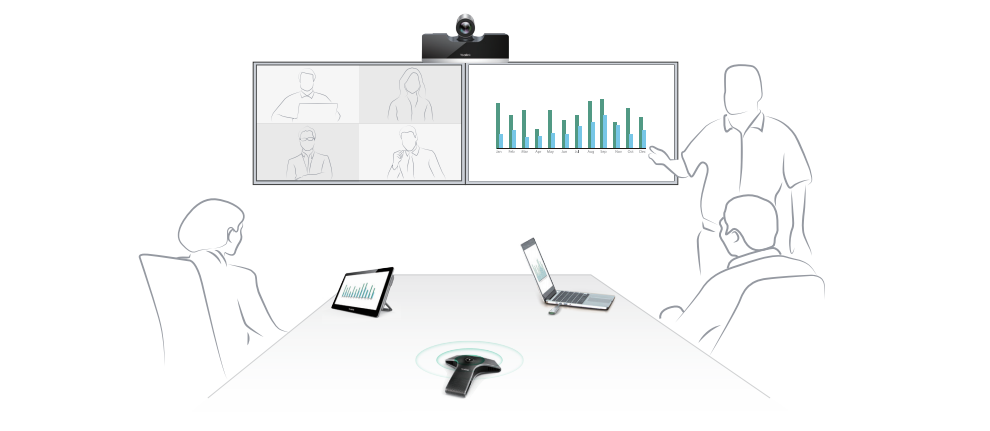 Camera Features

Zoom

5X optical

Frame rate

60 FPS

Horizontal field of view

83°

Video Features

Video call quality

Up to 1080p60fps

H.265/HEVC

√

Bandwidth requirement

1080P from 512kbps in H.265

Video packet loss recovery

30%

Local HD recording to USB flash drive

√

Microphone

Microphone Model

VCM34

Voice pickup distance

20ft / 6 meters

3-microphone array

√

Noise proof technology

√

Collaboration Touch Panel

Display

13.3-inch full-fit capacitive touch screen

Maximum devices connections simultaneously

4

Touch Pen

support active pressure capacitance pen

Collaboration Features

Whiteboard

√

Annotation on content sharing

√

Multi-screen interaction

√

Reverse control

√*

Network & Security

TCP/IP

IPv4 and IPv6

Communication protocols

H.323 / SIP

Traversal features

ICE/TURN/STUN/NAT/H.460

Encryption

SRTP/TLS/H.235/AES 128-bit

Physical
Connections

Video output

2 x HDMI

Video input for content

1 x HDMI &
1 x Mini Display Port

VCH/Phone port

1 x RJ45

USB interface

2 x USB2.0 in VC500 codec
1 x USB2.0 in VCH50 cable hub
1 x USB2.0 in CTP20

Network interface

1 x 10/100/1000M Ethernet

Power adapter

48V/0.7A

Video Codec

H.265, H.264 High Profile, H.264, H.263, H.263+

Audio Codec

ARES, Opus (8-48kHz), G.722.1C, G.722.1, G.722, G.711 (PCMU/PCMA), G.729

Video Resolution

1080P, 720P, 540P, 360P, 4CIF, CIF

Compatible Cloud

Yealink Meeting Server, Yealink Cloud Management Service, Pexip, Mind, Zoom, BlueJeans